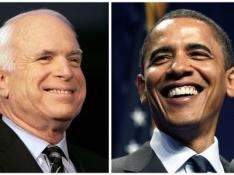 A moins d'une énorme suprise, Obama avec son dernier succès face àMcCain lors de leur troisiéme et dernier débat télévisé avant les élections de novembre.Barack draine des foules jusqu'a présent jamais atteinte lors de ses meetings locaux.Ainsi il a réuni pas moins de 100000 fans ce jour à Saint Louis dans le Missouri.
Vidéo d'analyse de l'AP du débat McCain – Obama
Vidéo de Barak Obama à Saint Louis pendant un meeting
Obama a déclaré :"I think the winds of change are blowing all across America,…They're blowing here in Missouri, they're blowing in Michigan, they're blowing in Illinois, they're blowing in Virginia, and they are blowing in Ohio.". Barack est coutumier des foules de cette échelle avec prés 80000 qui ont assisté à son meeting à Denver et 70000 à Portland en Oregon.
Néanmoins Obama a rappelé qu'il ne dimminuerait pas les taxes pour les inactifs mais pour la masse laborieuse, répondant pour cela à McCain qui l'avait attaqué sur ce point .
Le porte parole de McCain Tucker Bounds n'a pas hésité à traiter le plan d'Obama de retour au socialisme, remettant ainsi sur le feu de la rampe le désormais fameux plombier JOE (icone de la classe moyenne américaine) qui l'avait interpellé sur le sujet des taxes récemment.
Vidéo de l'altercation entre Joe le Plombier et Obama
Pour sa part Sarah Palin se débat avec une sombre accusation d'abus de pouvoir impliquant son ex beau frére : la désormais célébre trooperGate.
Vidéo résumant le scandale du troopergates de Sarah Palin
Un point sur les sondages encore largement favorables à Obama qui continue à gagner des points
[Table=31]
Notez le Post
[ratings]
Pour suivre les posts et vous tenir vous informé sur les élections US abonnez vous au flux rss
@+